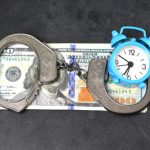 When a loved one is arrested, it can be a distressing and overwhelming experience for both them and their family and friends. The first thing that often comes to mind is how to secure their release from jail as quickly as possible. This is where emergency bail bonds come into play.
Understanding the Bail Bond Process
Before diving into the benefits of emergency bail bonds, it is important to understand how the bail bond process works. When someone is arrested, they are taken to a local jail and booked. The court then sets a bail amount, which is the sum of money required for the person's temporary release until their trial date. Bail serves as a guarantee that the individual will appear in court as required.
However, coming up with the full bail amount can be a significant financial burden for most individuals and their families. This is where a bail bond can help. A bail bond is a legal contract between the bail bond agent and the court. The agent agrees to pay the full bail amount if the defendant fails to appear in court, in exchange for a non-refundable fee from the defendant or their family.
Immediate Assistance, Anytime, Anywhere
Emergency situations can arise at any time, day or night. The fear and anxiety of an arrest can be compounded if there is no immediate help available. That's why having access to a 24/7 emergency bail bond service in Angleton, TX, is crucial. This service ensures that no matter when your loved one is arrested, you can reach out for assistance and support.
Round-the-Clock Bail Agents
Having experienced and professional bail agents available around the clock is a great advantage. They can answer your questions, guide you through the bail bond process, and provide immediate assistance during these stressful times. Their expertise in dealing with the legal system and their familiarity with the local courts in Angleton can help expedite the release process.
Efficient Process
When time is of the essence, an emergency bail bond service can expedite the release of your loved one from jail. Professional bail agents understand the urgency and work efficiently to gather all the necessary information, complete the paperwork, and post the bail bond promptly. This expedites the release process, allowing the defendant to be reunited with their family and prepare for their upcoming court dates.
Confidentiality and Privacy
Dealing with an arrest can be an embarrassing and sensitive situation. However, working with a reputable emergency bail bond service in Angleton guarantees confidentiality and privacy. They understand the importance of maintaining your privacy during this challenging time. Any information you share is handled discreetly, ensuring your reputation remains intact.
Flexible Payment Options
Financial constraints can often be a barrier when it comes to posting bail. Emergency bail bond services offer flexible payment options to make it more accessible for individuals and their families. These options can include cash, credit, or payment plans tailored to your financial situation.
Peace of Mind
The most significant benefit of relying on an emergency bail bond service in Angleton is the peace of mind it brings. Knowing that you have a dependable team of experts available 24/7 to navigate the legal process and secure the release of your loved one offers tremendous relief during an emotionally challenging time. It allows you to focus on supporting your loved one and preparing for their legal journey ahead.
Conclusion
Finding yourself or a loved one in a difficult situation after an arrest can be overwhelming. However, having access to an emergency bail bond service in Angleton, TX, can provide the support, assistance, and guidance you need. Their round-the-clock availability, efficient process, flexible payment options, and maintenance of privacy and confidentiality offers peace of mind while navigating through the bail bond process.
Contact Us
If you or a loved one find yourselves in need of emergency bail bonds in Angleton, TX, don't hesitate to reach out to Brazoria County Bail Bonds. Our professional and experienced bail agents are available 24/7 to provide immediate assistance, answer your questions, and guide you through the bail bond process. We understand the stress and urgency of these situations, and we are committed to working efficiently to secure the release of your loved one. With flexible payment options and a guarantee of confidentiality, we strive to provide peace of mind during this challenging time. Contact us today, and let us help you navigate through the legal process.